The website of the National Wood Ant Steering Group
News and Events
18 January 2019
Not a new paper, but an interesting one: wood ants as alchemists! By adding formic acid to tree resin, wood ants increase the antibacterial properties of the resin. A study by Brütsch et al. in Ecology and Evolution.
7 January 2019
Some great pictures of Narrow-headed ants taken as part of the Back from the Brink project. Find out more about this project by volunteering to help with habitat creation on 30 January. Click here for more details.
19 December 2018
Genetic analysis reveals Finnish 'Formica fennica' are actually a morph of Formica exsecta despite morphological differences. Study publised in PeerJ.
26 November 2018
We have long considered wood ants to be ecosystem engineers with wide ranging effects throughout their local environment. However, a new study by Thunes et al. shows that even lichens and epiphytes may be affected by the presence of wood ants.
22 November 2018
We are delighted Xander Johnston has won RSPB Young Nature Champion at the Nature of Scotland Awards. Xander has made a tremendous contribution to conservation in the Cairngorms helping species such as the shining guest ant (Formicoxenus nitidulus). You can listen to Xander talking about his work on ants here.
14 November 2018
A new study by Jilkova et al. in Geogerma provides further evidence of the importance of wood ants (Formica polyctena) as ecosystem engineers. Their results showed that wood ant nest mounds support a different composition of ectomycorrhizal fungi compared to the surrounding forest floor. This may be due to the increased levels of nutrients in wood ant mounds regardless of whether they are still inhabited or not.
2 November 2018
Wood ants (Formica aquilonia) believed to be extinct in Northern Ireland. The Steering Group are investigating and will report after our next meeting.
7 October 2018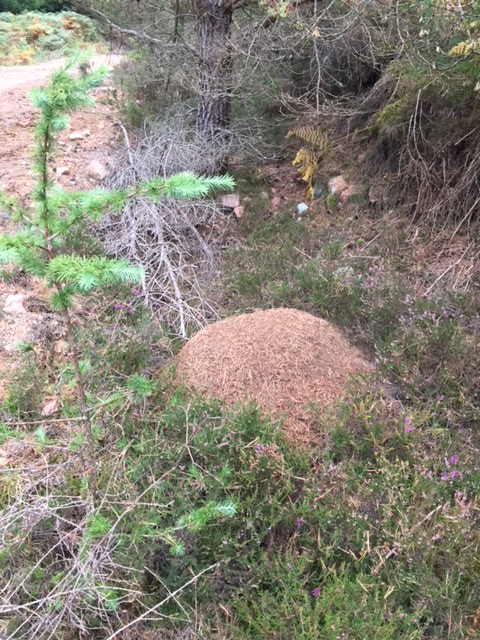 Stephen Carroll (Buglife) on BBC Countryfile talking about attemps to save the Narrow-headed ant (Formica exsecta) in Devon.
24 September 2018
New population of hairy wood ants (Formica lugubris) discovered at Greendams, Aberdeenshire, making it the furthest east yet in Scotland.